Scrap Platinum Buyers & Gold Brokers
America's Trusted Platinum Buyers & Brokers
America's Platinum scrap buyer, smelter and refiner since 1939 
We are the only scrap platinum buyers and refiners you will ever need!
A Buyer For Your Scrap Platinum is a division of Midwest Refineries LLC. Midwest Refineries is a family owned and operated business since 1939 and enjoys a reputation of integrity and accurate platinum recovery within the precious metal refining industry. From large industrial scrap platinum refining lots, to small amounts of platinum scrap sent in to us from the general public, Midwest Refineries is the right choice to sell your platinum and all platinum group metals scrap.
A full-service refiner, smelter, assayer and buyer, Midwest Refineries has no platinum refining fees, no assay fees and no inbound troy ounce weight charges on any platinum scrap materials. Midwest Refineries has no minimums on Platinum, Palladium and Rhodium scrap metal, and are the only scrap platinum buyers and refiners you will ever need.
We buy: Platinum Jewelry, Platinum Wire, Industrial Platinum Flake, Platinum Crucibles, Lids and Screens and more.
Little known facts about PLATINUM, the rarest of all precious metals:
 All the platinum mined since the beginning of time would only be the size of a 25-foot cube!
 A six-inch cube of platinum weighs as much as an average man!
 It takes 6 months of processing to produce a single troy ounce of platinum!
LIST OF PLATINUM MATERIALS WE BUY:
Platinum jewelry, platinum coins and bars, platinum thermocouple wire, all materials containing platinum group metals including Palladium and Rhodium, industrial platinum waste, iridium, platinum crucibles and screens, platinum sponge, palladium sponge, rhodium sponge, platinum flake and foils, platinum buttons, platinum from medical waste and scrap, concentrates containing platinum, jewelers polishing and buffing dust, all scrap dental materials and alloys
WHAT MIDWEST REFINERIES PAYS FOR PLATINUM:
Smelters and refiners that claim to pay 98% or 99% for your precious metals, also charge refining fees, assay fees, treatment charges, brokering fees, inbound troy ounce weight fees, handling fees and other fees. Nobody can operate a business on 1% or 2%.
Midwest Refineries has NO FEES OR CHARGES PERIOD! We pay 90% of the value of your platinum materials. You receive the platinum market price on the day your order is assayed and brokered.
SETTLEMENT OPTIONS ON YOUR Platinum SCRAP
Check
Bank wire
Gold, silver and platinum bars, coins and rounds. Call for availability and pricing.
Combinations of 1 through 3
HOW TO SHIP YOUR PLATINUM TO MIDWEST REFINERIES:
It is in your best interest to package up your material in a sturdy container or box that will withstand any damage while being shipped to us. Strong tape is recommended to properly seal your shipment. Ship registered insured if you desire via the U.S. Post Office, U.P.S., Fed ex, or any shipper you choose.
Be sure to include all of your contact information including name, address, phone and e-mail address if you have one. List the items you are sending and the nature of your platinum material if known.
Indicate your settlement options and ship to:
Midwest Refineries
4471 Forest Ave.
WATERFORD MICHIGAN 48328
Current Precious Metals Market Prices.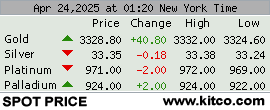 Midwest Refineries' Precious Metals Images
Many of the images of precious metals on our website were taken using scale models from Midwest Refineries' die cast metal toy collection.
All images are the copyrighted property of Midwest Refineries and are not to be used in any form, public or private, without our knowledge and written permission.